Forest in a Flash Products
Deciduous tree kits by Jane's Trains
View Catalog Now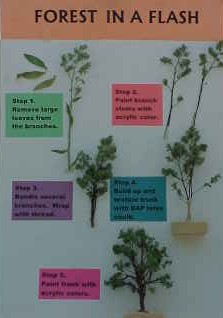 Fast and easy to assemble kits include beautiful plant material with thousands of tiny natural "leaves". Fully preserved and dyed in a wide range of natural looking colors. Available in a variety of summer greens as well as fall colors. Oaks, elms, aspens, cottonwoods and many other tree types can be made. Each kit will make between 6 and 20 trees depending on the sizes you choose to make.


2960 Garden Tower Ln. Georgetown Ca 95634
Ph: 530-333-1365
Fax: 530-333-1051

(c) 1999 Bragdon Enterprises